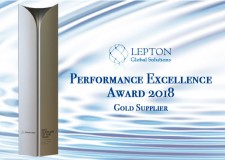 The company is being recognized as a valuable supplier for the second year in a row.
Vienna, VA, May 2, 2019 (Newswire.com) - Lepton Global Solutions, a leading small-business provider of customized, cost-effective, end-to-end satellite communications solutions, today announced that it has received a 2018 Boeing Performance Excellence Award at the Gold level. The Boeing Company issues the awards annually to recognize suppliers who have achieved superior performance. 
Lepton Global Solutions is one of only 82 global Boeing suppliers to receive the Gold level of recognition, and Boeing is recognizing a total of 382 suppliers who have achieved either Gold or Silver level performance. 
"It is an honor to receive the Gold level Boeing Performance Excellence Award for our work in 2018," stated Isabel Bacon LeBoutillier, Managing Partner at Lepton Global Solutions. "Our whole team greatly appreciates Boeing's recognition, and we are pleased to have once again proven that Lepton's dedicated approach to customer service is contributing to success for our partners."
Last year, Lepton Global Solutions received the Pathfinder Supplier of the Year Award, one of 13 awards recognizing highest-level achievement among Gold level suppliers. Lepton supports multiple Boeing programs with communications equipment and service.
About Lepton Global Solutions
Lepton Global Solutions specializes in the engineering and delivery of customized, yet cost-effective turnkey satellite communications solutions to commercial and government customers. Lepton's end-to-end solutions, which go beyond managed satellite services to include VSAT equipment installation, 24×7 technical support, and customized back end IT infrastructure, are tailored to meet customer-specific needs.
Lepton is headquartered outside Washington, D.C., in Vienna, Virginia. For additional information, please visit www.leptonglobal.com.
Source: Lepton HQ
Share: