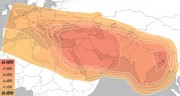 Lepton's new Managed Service on E70B offers flexible, reliable, and secure IP access over the Middle East, North Africa, South West Asia, and Europe for enterprise and government markets.
Vienna, VA, February 22, 2016 (Newswire.com) - Lepton Global Solutions, a leading provider of customized, cost-effective, end-to-end satellite communication solutions, today announced the launch of a new Managed Satellite Network on Eutelsat 70B (70.5° East) for enterprise and government customers. Leveraging the latest iDirect platform, Lepton's newest network will provide reliable and secure coverage across a broad expanse of territory from Europe to SWA, featuring strong coverage over North Africa and the Middle East.
Lepton's hub-side infrastructure is co-located at the Fucino Space Centre in Ortucchio, Italy, selected for its established history, security infrastructure, and topographic advantage for uplink and downlink connections. The iDirect platform is managed from Lepton's Network Operations Center in Vienna, VA, which also provides 24x7 customer support.
"Demand from military customers in particular facilitated this investment," said Rob Weitendorf, Managing Partner. "This network is designed to accommodate the smaller portable and manpack terminals increasingly used by our customer set in this region."
Lepton networks feature the following characteristics:​
Flexibility of Contracts and Data Increments: long-term contracts, on-demand connectivity, VoIP needs, and application prioritization are all accommodated  

Reliability: Lepton utilizes MAC I

teleports

and fully redundant network infrastructure
Network Security: Lepton protects customer data with Palo Alto Networks for Intrusion Prevention and Detection services
Proactive Customer Service: Lepton uses a Global NMS system for unified network management from a 24x7 NOC in Vienna, VA. Lepton also deploys

SolarWinds

® performance monitoring for customized, automated alerts and a web portal for customer visibility into network usage.
About Lepton Global Solutions
Lepton Global Solutions specializes in the engineering and delivery of customized, yet cost-effective turnkey satellite communications solutions to commercial and government customers. Lepton's end-to-end solutions, which go beyond managed satellite services to include VSAT equipment installation, 24×7 technical support and customized back-end IT infrastructure, are tailored to meet customer-specific needs.
Lepton is headquartered outside Washington, D.C., in Vienna, Virginia. For additional information, please visit www.leptonglobal.com
Share: