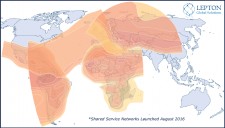 Shared Ku-band services in Africa, South America, Europe, and the Atlantic Ocean Are Now Available on the Latest iDirect Platform
Vienna, VA, August 18, 2016 (Newswire.com) - ​Lepton Global Solutions, a leading provider of customized, cost-effective, end-to-end satellite communications solutions, today announced the expansion of their Ku-band satellite capacity to four additional OCONUS beams to accommodate a growing customer base among commercial and government users. The managed services provider has expanded services to three new satellites and is offering shared and dedicated options on the iDirect Evolution® 3.3.5 platform. These services are landing at a teleport in the Netherlands.
Additional Ku-band satellite communications services will be offered in four regions. One beam will offer full Ku-band coverage of Africa including South Africa and Madagascar. Other beams will provide coverage over South America, Central America, and the Atlantic to support government requirements as well as a growing maritime customer base between the Americas and Europe. European land-based services, along with coverage in the Norwegian, North, and Baltic seas, will also be available. Customers can burst up to 10 Mbps x 2 Mbps on the shared services, and dedicated inroutes can be created for customers needing higher inbound speeds.
"Lepton's latest expansion of services is a reflection of our growing global presence, both from an infrastructure and services perspective"
"Lepton's latest expansion of services is a reflection of our growing global presence, both from an infrastructure and services perspective," said Isabel Bacon, managing partner at Lepton Global Solutions. "While we support dedicated Government links on our hubs in Europe, these new shared services offer government and commercial customers immediately-available, cost-effective solutions to short-term or lower rate communications needs. Maritime service requirements are also growing, and our coverage choices are in part a reaction to those market demands."
The growth of Lepton's managed satellite networks signifies a strong commitment to the four pillars of the business: Flexibility, Reliability, Security, and Customer Service. Lepton offers networks in Ku-, Ka-, X-, and C-band frequencies across multiple platforms, and incorporates compression and acceleration technologies for optimal user experience. Core network teleports are located in Hawaii, Atlanta, Italy, and the Netherlands, and traffic is delivered to a single U.S. Point of Presence in Virginia.  The company manages its networks and provides customer support from a 24x7 Network Operation Center (NOC) in Vienna, VA, just outside of Washington DC. 
About Lepton Global Solutions
Lepton Global Solutions specializes in the engineering and delivery of customized, yet cost-effective turnkey satellite communications solutions to commercial and government customers. Lepton's end-to-end solutions, which go beyond managed satellite services to include VSAT equipment installation, 24×7 technical support, and customized back-end IT infrastructure, are tailored to meet the customer's specific needs.
Lepton is headquartered outside Washington, DC, in Vienna, VA. For additional information, please visit www.leptonglobal.com
Contact Information
Lyuda Promyshlyayeva
​Marketing Coordinator
lyuda@leptonglobal.com
(571) 313-1256
Source: Lepton Global Solutions
Share: