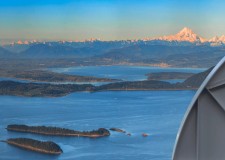 Increased Ku-band Coverage, Proactive Technical Support and U.S.-based Offering Attracts New Customers
VIENNA, Va., April 8, 2019 (Newswire.com) - Lepton Global Solutions, a leading small-business provider of customized, cost-effective, end-to-end satellite communications solutions, has expanded its Asia-Pacific network service offerings and customer market. In the last year, the company significantly increased its Pacific network service presence, adding multiple government, military and commercial customers from the North American mainland to remote Pacific islands.
Since launching services in the Asia-Pacific region in 2016, Lepton has seen a steady increase in demand for satellite communications from Alaska's Aleutian Islands chain down to the U.S. territories between Hawaii and Southeast Asia. The company now offers Ku-band satellite coverage across the Pacific via Eutelsat's 172B (172°E) and 70B (70°E) satellites, as well as Ka-band services via Inmarsat's Global Xpress network. A new managed network on Eutelsat 174A (174° E) is planned to debut in the second quarter of 2019 in support of a government customer. Lepton also recently supported a DoD exercise on JSAT2B's Pacific and South beams in C- and Ku-band.
"Our hub infrastructure at Hawaii Pacific Teleport enables us to offer an entirely U.S.-based solution where needed in a region with a large foreign-owned service provider footprint," stated Rob Weitendorf, Managing Partner at Lepton Global Solutions. "We chose HPT as a strategic bridge from the U.S. to the Pacific, and we are glad to be supporting the increasing requirements of our commercial and government customers in the region."
For more information on Lepton's activities in the Pacific, read the company's newest case study: Defense, Science, Commerce Brings More Business to Lepton in the Pacific Theater.
About Lepton Global Solutions
Lepton Global Solutions specializes in the engineering and delivery of customized, yet cost-effective, turnkey satellite communications solutions to commercial and government customers. Lepton's end-to-end solutions, which go beyond managed satellite services to include VSAT equipment installation, 24/7 technical support and customized back-end IT infrastructure, are tailored to meet customer-specific needs.
Lepton is headquartered outside of Washington, D.C. in Vienna, Virginia. For additional information, please visit www.leptonglobal.com.
Source: Lepton HQ
Share: